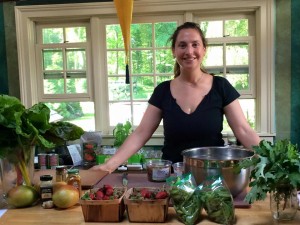 I am Maya, mom to Loden and Ellery, and wife to Bo. We lived in St. Louis Missouri for 6 years and then moved back to the East – The Connecticut Shoreline to be precise! I am addicted (yes, addicted) to nutritious, wholesome, sustainable cuisine, and want to share my passion for food and wellness with you and the rest of the world!
Having healed myself from an auto-immune thyroid condition through diet and lifestyle changes, I know first-hand the healing power of food as medicine, as well as the value of living at one's optimal wellness. I founded A Recipe for Wellness, LLC as a way to inspire and promote well being in others.
A graduate of Brown University, I received my food and nutrition training at the Institute for Integrative Nutrition (IIN) in New York City. Affiliated with Columbia University, IIN educates its students in myriad of dietary theories: from Macrobiotics & Ayurvedic Principles to today's trends of raw foods and low-carb diets. I also have a Masters degree in Health Promotion from Indiana University, where I researched community supported agriculture, farm-to-school programs, and other sustainable food systems; specifically how eating fresh, local produce can impact and improve community health.
As a Holistic Health Coach, certified by the American Association of Drugless Practitioners, I feel blessed to be able to support, educate and empower my clients to lead healthy, happy and balanced lives.
A little more about me:
With Loden and  Ellery in my life, I am ever more committed to having fresh, nutritious foods available to all of our nation's youth. Quality nutrition education, farm-to-school programs, and healthy school lunches are key to improving our children's well being.
When I'm not in the kitchen with Bo and the kids (who ALL love to cook as much as I do – Loden makes the meanest scrambled eggs!), I can be found practicing yoga, or enjoying the great outdoors, hiking or biking.